Shrub Care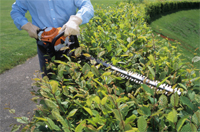 Again, if your shrubs are planted in rich soil, heavy fertilizing will not be needed. Flowering shrubs will benefit from the same fertilizers that are discussed above in 'perennial care'. If you grow acid-loving shrubs including Azaleas, Rhododendrons, and evergreens, you can increase the acidity of your soil by using a combination of Holly Tone and Miracid.
Many shrubs benefit from seasonal pruning, which encourages new growth. The time and degree of pruning depends on the particular variety of shrub.
We recommend taking some winter precautions to ensure the healthy return of your shrubs year to year. Protect your shrubs from deer by wrapping them in burlap during the winter months. For evergreens including Azaleas, Rhododendrons, and conifers, we recommend that you apply Wilt Pruf to your shrubs in late fall or early winter. Wilt Pruf is an anti-transpirant that coats the leaves in a waxy residue that helps to prevent moisture loss. On a sunny winter day, moisture is lost from the leaves since water cannot be taken up from the frozen soil. Excess moisture loss results in winter kill.