How to Plant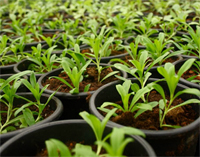 Potted perennials, shrubs and roses can be planted at any time during the growing season. Tender annuals and vegetables should not be planted before the frost-free date (mid-May at the earliest for this area). Hardy transplants can be planted a month before the frost-free date as long as they are hardened off first. Hardening off is merely a gradual adjustment to a new (colder) growing environment. You can set plants out on a covered porch for a few days to acclimate them before planting in the ground.
Carefully remove the plant from the pot. If the roots are wrapped around the bottom of the pot, gently tease them apart with your fingers. If they are too dense to accomplish this, a knife can be used to cut through the root mass. Spread the roots and set the plant at the same level it was in the container. Firm the soil around the plant to eliminate any air pockets around the root system. Water the plants thoroughly.
Do not plant too early in the spring when soil moisture levels are high and temperatures are very cold. Planting at this time may ruin soil structure and result in poor root growth. Late-season plantings should be completed a month before killing frosts so roots can get well established prior to the onset of winter. All late-season plantings should be mulched for their first winter to minimize the chance of winter damage.